Quit Selling To Customers And Care For Clients
---
They aren't customers. You raise the wellness of those under your care. The key word in that situation is care.
When you take on the obligation of caring for someone's wellness they become something must more than a mere customer. The people you care for are your clients, or patients.
Let's look at Merriam Webster's definitions of those three words:
Customer - one that purchases a commodity or service
Client - one that is under the protection of another

a sick individual especially when awaiting or under the care and treatment of a physician or surgeon
a client for medical service
Ponder those terms. Think of the people that you help in your business. Consider the underlying meaning and impact.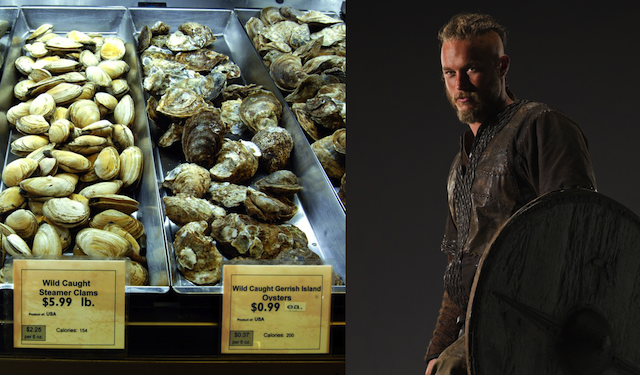 image credit
Commodity or care? What is it that you desire to deliver?
Commodity Salesman or Caring Protector
Think about the image above. Selling shellfish to whoever walks past. Fluctuating the price to ensure they get sold before they spoil. You'd be constantly competing on price with the vendor across the street. You have no relationship with the people that buy. Sure some people may become regulars, but if the pricing changes too much … they're gone.
Contrast that to Ragnar Lothbrok the leading and protecting earl. I wish I could explain my fascination with the show, but I can't. Perhaps it is my 100% Scandinavian heredity, perhaps it is just a well told story. But I have been sucked into the History's channel retelling of the history of the Vikings.
If you step outside the violence and consider how his townspeople viewed their earl, we can start to understand the differences between a customer and a client.
The townspeople looked to their leader for protection, provision, and leadership.
Choose Your Words Carefully
Our words affect our feelings, and our feelings affect our actions.
One characteristic about the wellness business owners I've met and have the joy of helping is that they truly care about the people they serve. If you are reading this page, I'm willing to bet that you would fit nicely along with them.
Your Focus
You deeply care about people.
You focus your every effort in helping them improve their health , fitness, and wellness so they can enjoy life.
You are intent on earning their trust as an advocate.
You aim to educate them so they can make better choices for their wellness.
You focus on them.
So be intentional about the words you use as you work on your business.
Serve Clients Don't Sell To Customers
Make a deliberate decision to banish the term customer from your vocabulary. That's not easy. I know first-hand how difficult that transition is and I need your help.
HELP ME: When you find me using the term customer on this site, or over on Cube Dweller Fitness will you correct me? Will you hop onto our contact page and point out where I used the word customer so I can correct it, or at least make a comment about it.
Together we can make a huge impact on the world. We can help people join the cause and move from a sickness focused system to a wellness focused system.
By intentionally serving clients.